Huazhong 8 CNC system operation guide (1)
Huazhong 8 CNC system operation guide of panel functions
High precision and high efficiency are the core competencies of CNC, and intelligence is the development direction of CNC technology. In order to help users further improve the performance of machine tool products, Huazhong CNC targets the product direction of "useful, durable and easy to use", and launched a new Huazhong 8 CNC System V2.4 product to help users realize "more precise and faster "CNC machining, more intelligent".
Take Huazhong 8 CNC system for milling and Huazhong 8 CNC system for turning as an example and helps you quickly master Huazhong 8 CNC system from the aspects of introduction to control panel functions, programming, tool sets, machining operation, basic application, and maintenance, etc. Systematic machining method.
An overall introduction of panel functions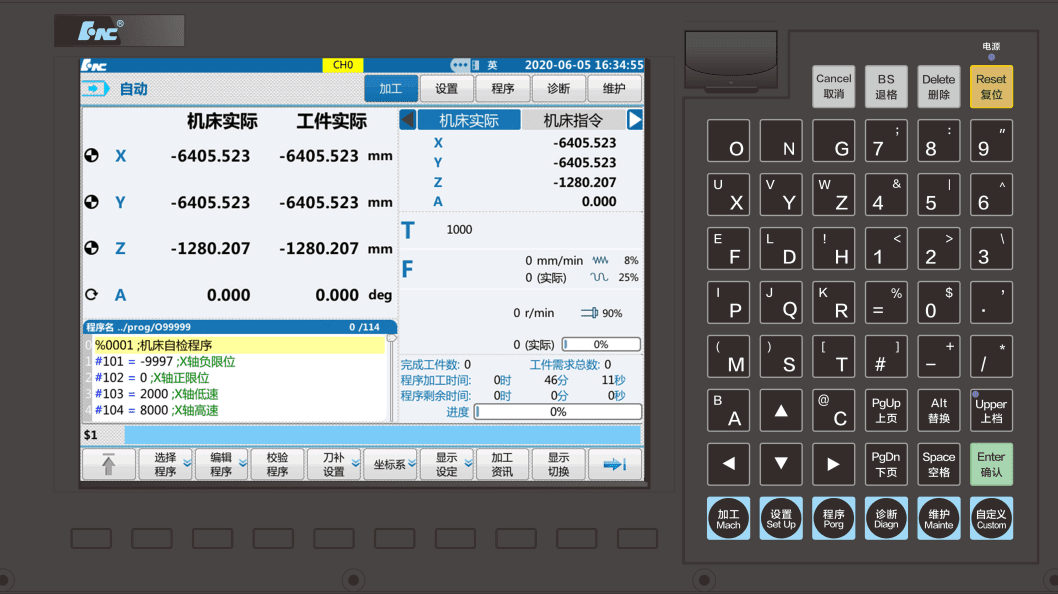 The CNC panel of the Huazhong 8 milling CNC device is equipped with 5 function keys "processing, setting, program, diagnosis, and maintenance". Each function key corresponds to a group of function sets. Each function set can select the corresponding function and interface through the part soft key. The function description and main tasks of each function set are as follows.
Processing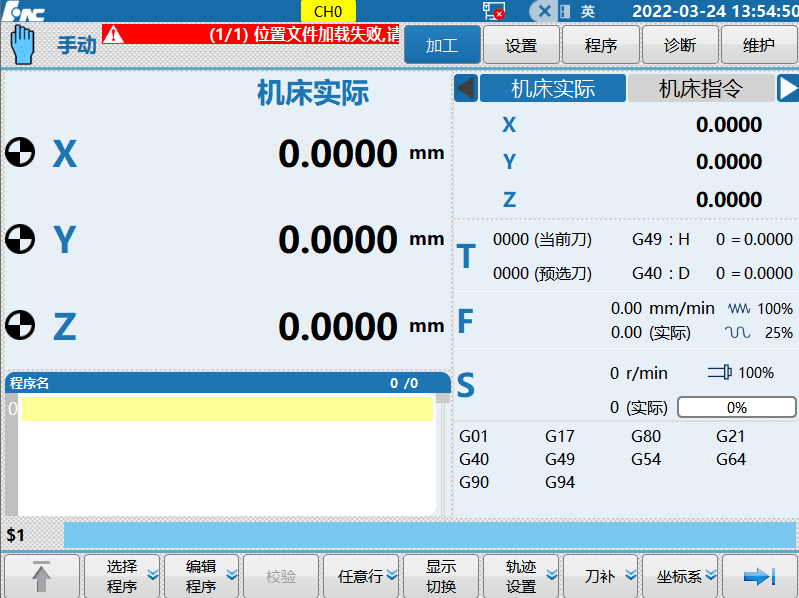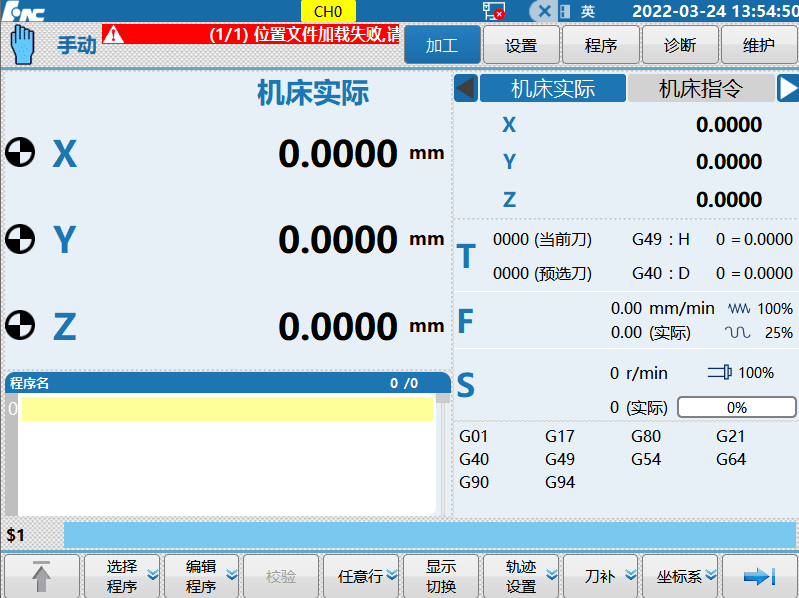 Functional description: Functions required for automatic machining operations
Functional content:
① Program editing: edit new program, edit currently loaded program, edit selection;
② Program processing: processing program selection, program verification, program processing;
③ Tool setting operation: coordinate system, tool compensation setting;
④ Interface display: track setting, display switching;
⑤ Others: user macro, processing information, manual MST.
Set up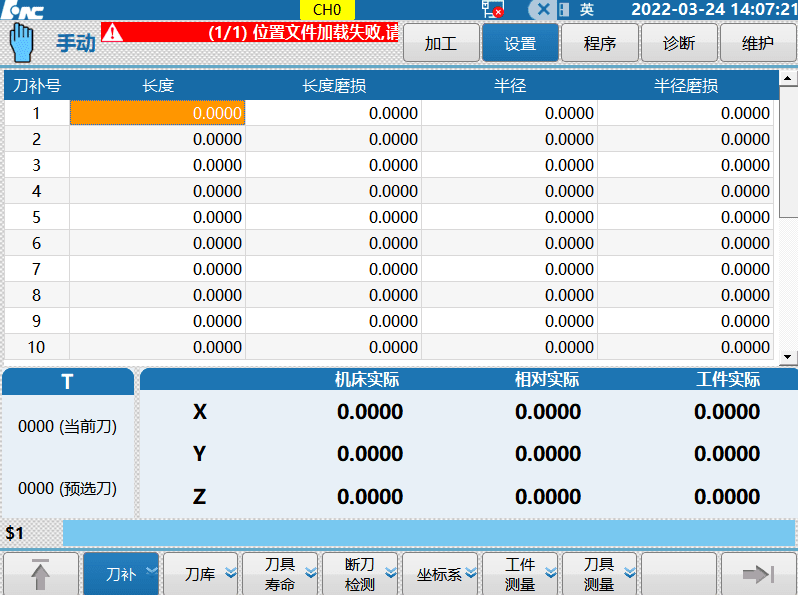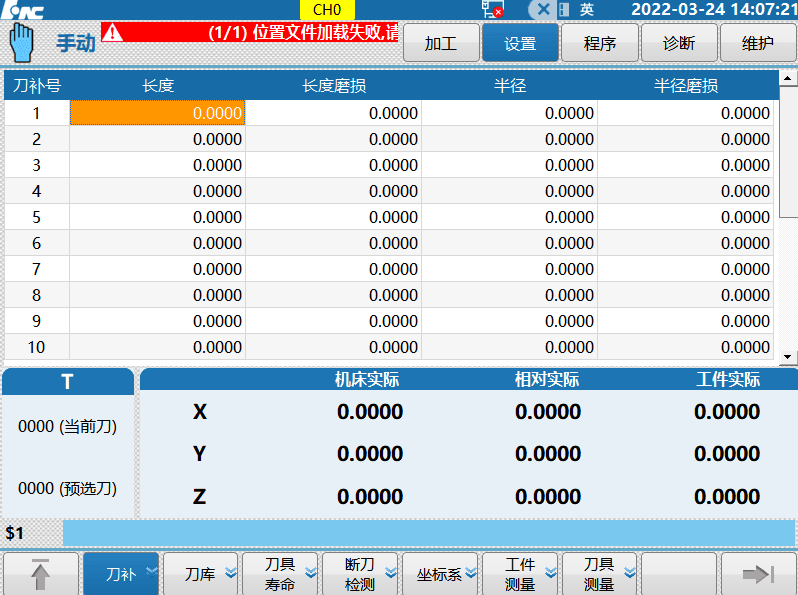 Function description: operation functions related to tool setting
Function content: tool compensation setting, tool setting, tool life management, tool setting operation (coordinate system, workpiece measurement, automatic tool setting)
Program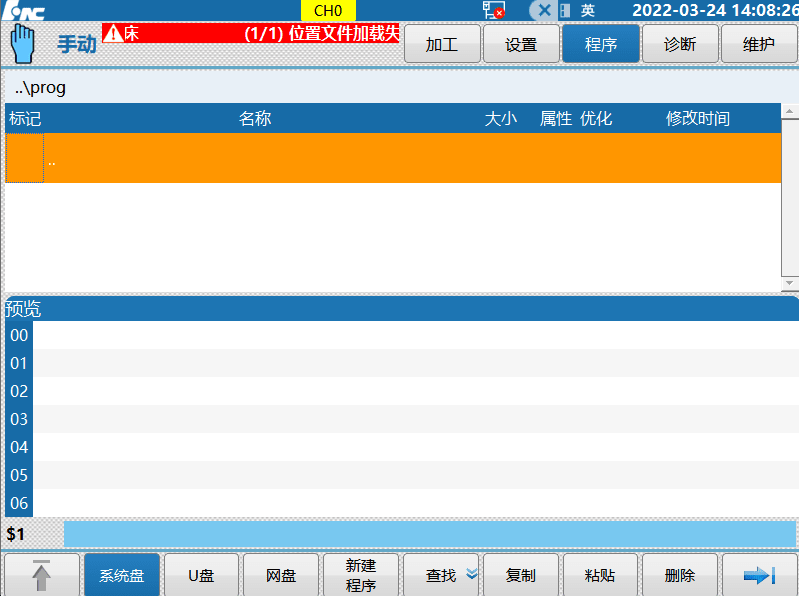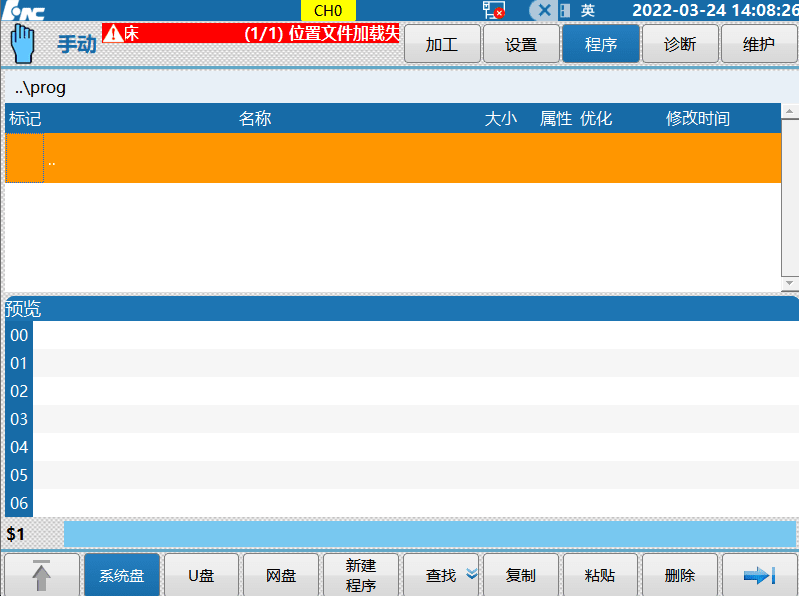 Function description: user program management function
Function content: Edit new program, select, copy, paste, delete the program from the system disk, U disk, network disk, program rename, sort, set the mark
Diagnosis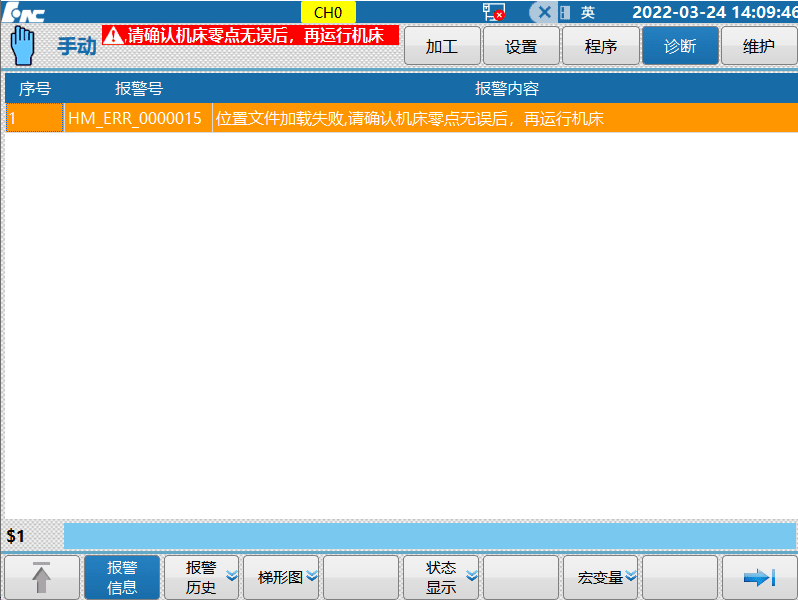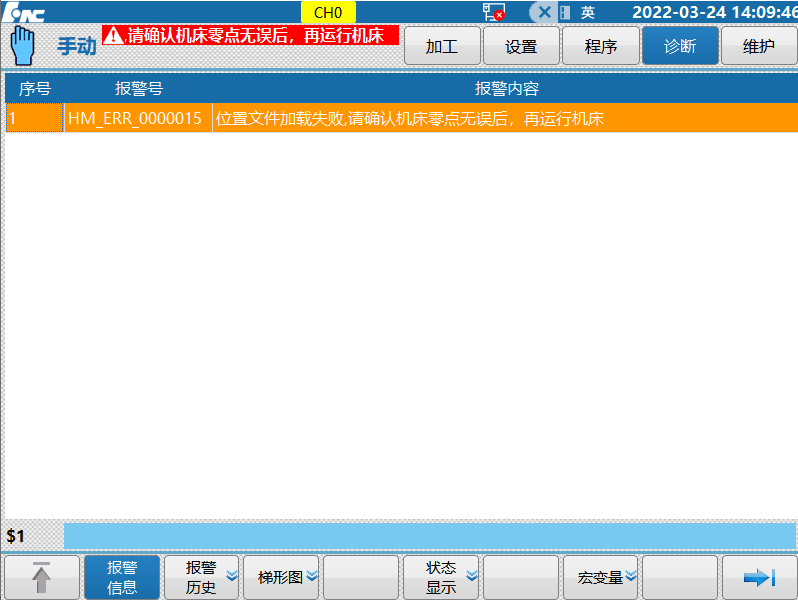 Function description: fault diagnosis, performance debugging, intelligent function
Functional content:
① Fault diagnosis function: alarm information, alarm history, ladder diagram, PLC status, macro variable, log, and other functions;
② Performance debugging function: servo adjustment
③ Intelligent functions: fault recording, screw load, self-check, and other maintenance
Maintain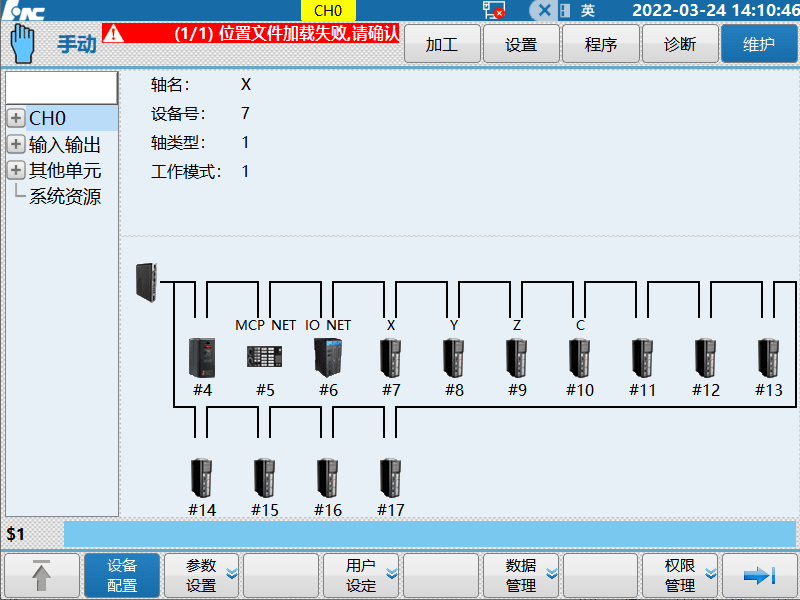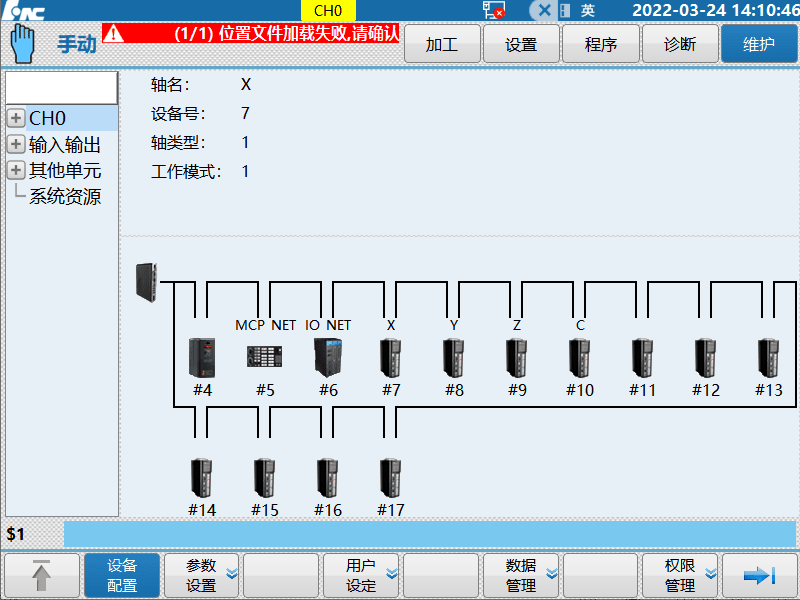 Function description: hardware setting, parameter setting, system upgrade, basic information, data management, and other maintenance-related functions
Functional content:
① System's hardware device configuration and configuration sequence setting function: device configuration
② General parameter setting function: parameter setting
③ Setting function of user-selected parameters: parameter configuration
④ System upgrade and debugging functions: batch debugging, data management, system upgrade, authority management, user setting
⑤ Registration, basic information, and other functions: registration, machine information, system information, process package, time setting
Please stay tuned for the Milling CNC Quick Start Operation Guide Series
Issue 1 Overall Introduction to Panel Functions
Issue 2 Program and verification
Issue 3 Machining coordinate system setting
Issue 4 Manual MST (manual numerical command)
Issue 5 MDI Function (Manual Input Mode)