Huazhongcnc Intelligent Manufacturing Automation Production Line
Background of the project
Behind the rapid development of the intelligent manufacturing industry, supply-side structural contradictions are increasingly emerging. As a strategic emerging industry, intelligent manufacturing corresponds to the transformation and upgrading of a professional group. Focusing on intelligent manufacturing technology, high-end CNC processing technology, industrial robot technology, and other needs, HuazhongCNC gives full play to the guidance function of the government, the technical advantages of manufacturing equipment enterprises, and the academic and resource advantages of scientific research institutions, and jointly promotes education and teaching reform, professional upgrading and construction, talent training, public training base construction, social skills training services, etc.
The value and characteristics of intelligent manufacturing production lines
01
The intelligent manufacturing production line solution closely follows the main direction of intelligent manufacturing and has distinctive characteristics and an advanced nature. Once completed, it can enhance the school's professional strength, attract better student resources and teachers, and enhance its overall "brand image."
02
The intelligent manufacturing production line solution not only covers knowledge in multidisciplinary fields such as mechanics, electronics, electrical, automation, control, computers, software, information systems, statistics, management, etc., but also integrates intelligent equipment such as CNC machine tools, robots, and laser marking machines. This program can not only be used as a cross-professional comprehensive teaching training in schools but also actual production and processing, allowing students' abilities to be seamlessly connected with the company's demand for intelligent manufacturing talents.
03
Each software and hardware module of the intelligent manufacturing production line has good openness and scalability. Based on this platform, teachers, and students in relevant majors can carry out secondary development and conduct more in-depth independent scientific research work.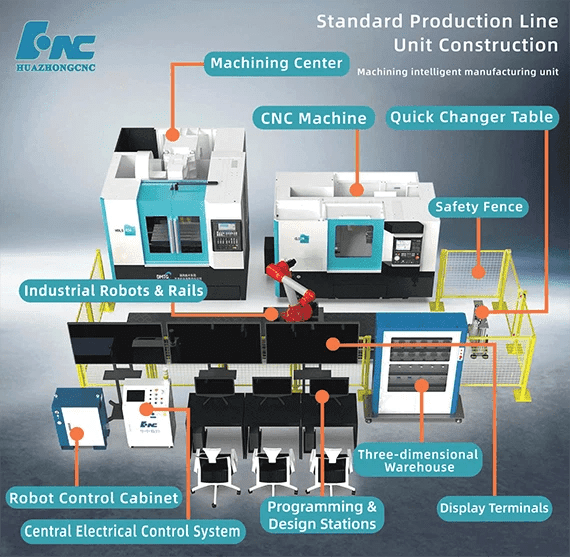 Based on the actual promotion and application and development needs of intelligent manufacturing technology, the design is based on the construction concept of "Equipment automation + lean production + management informatization + labor efficiency". It integrates CNC processing equipment, industrial robots, testing equipment, data information collection and control equipment, and other typical processing and manufacturing equipment into an intelligent manufacturing unit "hardware" system, combining digital design technology, intelligent control technology, efficient processing technology, industrial Internet of Things technology and RFID digital information technology to the technology platform of the competition. The technology platform has functions such as digital design of parts and process planning, real-time data collection of the processing process, automation of the processing process, traceability of processing status based on RFID, and processing flexibility.
With the deep integration of new generation information technology and advanced manufacturing technology, HCNC group applies a new generation of intelligent CNC systems to promote the intelligent upgrading of CNC machine tools. The machine tools of the intelligent manufacturing production line are equipped with the HCNC 8 series CNC system, which has high processing efficiency, good stability, high strength, and various precision and is stable and reliable.
Application areas