Welcome To The HuazhongCNC Booth At The 2023 Indonesia Jakarta International Machine Tool Exhibition
Exhibition Introduction:
Manufacturing Indonesia is the oldest and most international manufacturing exhibition in Southeast Asia, with a history of more than 30 years. In terms of scale, it is the largest manufacturing exhibition in the local area, and it is also the most professional manufacturing exhibition in Indonesia, known as one of the top 20 manufacturing exhibitions in the world.
In 2022, 843 exhibitors from 33 countries and regions participated in the exhibition, covering an exhibition area of 17,000 square meters. The exhibition attracted 25,303 experts, distributors, and buyers from various fields to visit the exhibition and negotiate.

HCNC Introduction:
Wuhan Huazhong Numerical Control Co., Ltd (HCNC), headquartered in Wuhan, is the leading supplier and manufacturer of CNC systems, industrial robots, servo drives, servo motors, CNC machine tools, and so on.
Founded in 1994 with a registered capital of RMB 172.79 million, HCNC is a listed group company with more than 30 branches (subsidiaries). Our team of professionals works in product research & development, manufacturing, sales & marketing, training, and customer service. We have passed Management Systems Certifications including ISO9001, ISO14001, and OHSAS18001.
The intelligent functions including command domain big data, iNC-Cloud, and optimization of process parameters which have been developed in the HNC8 CNC systems are leading the developing trend of CNC technology. Our multi-axis, multichannel, and synchronous control technologies successfully support a variety of medium and high-grade machine tool types containing 5-axis machining centers, lathe machines, milling machines, large gantry machining centers, turning centers, precise horizontal machining centers, high-speed drilling-tapping centers, five-axis grinders, and so on.
HuazhongCNC Booth Information
Exhibition time: 2023.12.06-12.09
Booth Information: Booth No.: A1-1122 in Jakarta International Convention & Exhibition Center, Indonesia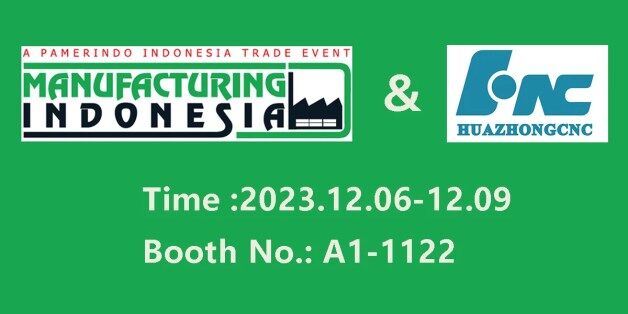 HuazhongCNC exhibits