Smart + CNC – HCNC New Generation Of Smart CNC Systems And Smart Machine Tools Appeared At CIMT2019
On April 15-20, 2019, the 16th China International Machine Tool Exhibition (CIMT2019) hosted by the China Machine Tool Industry Association was held in Beijing New International Expo Center. Wuhan Huazhong Numerical Contorl Co., Ltd. (HCNC) brought a new generation of smart CNC system and the smart machine tool to this exhibition, conforming to the development trend of "smart +" in the equipment manufacturing industry, which demonstrated the company's strong technical strength.
The theme of CIMT2019 is "win the smart future together". HCNC took "smart + CNC" as the theme and carries "new generation iNC CNC system and smart machine tool", "HNC8 CNC system and key technologies" , "INC-Cloud CNC machine tool big data center", "five-axis high-end CNC machine tool" "Huashu robot" and other new products and technologies at this exhibition. The major exhibition areas were full of bright spots, attracting many audiences to watch, discuss and inquire, and have received wide attention and praise from customers in various industries.
Exhibition 1: "Smart + CNC"-the New Generation iNC CNC System and Smart Machine Tool Display Area
1. New generation iNC CNC system
The smart CNC system based on the intelligent hardware platform of embedded AI chips exhibited at this exhibition focused on displaying a batch of smart applications and functions.
Technical features: more stable, more powerful, and more open!
(1) Smart hardware platform based on embedded AI chip
(2) Configure a smart software platform to form a samrt APP development environment
Exhibition 2: Internet + CNC-iNC-Cloud CNC Machine Tool Big Data Center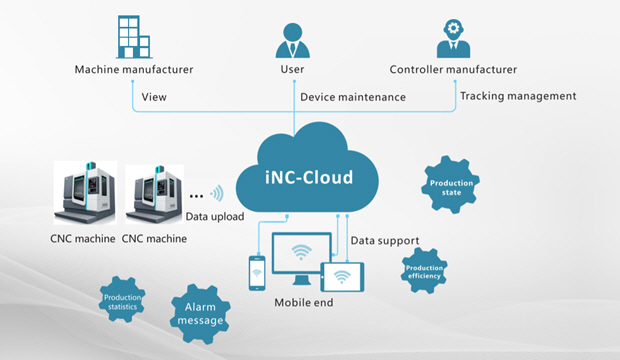 The HCNC iNC-Cloud CNC machine tool big data center is composed of cloud butler and mist butler. iNC-Cloud CNC cloud butler is an intelligent and networked service platform centered on CNC systems for CNC equipment users and CNC equipment/system manufacturers. Through big data aggregation, statistical analysis, visualization and other technologies, the intelligent monitoring, maintenance and management of the production process are realized, providing users with equipment status monitoring, production efficiency analysis, intelligent remote operation and maintenance and other services.
Mist butler (smart production line master control system) is a control system for one or more intelligent production lines. The system can be distributed and deployed in multiple nodes to run in coordination. It has the characteristics of modularity, configurability and openness, and is oriented to different application scenarios. It can be adapted to most machine processing lines through flexible configurations such as technology, tools, and production lines.
Exhibition 3: More Precise, Faster and Smarter-HNC8 CNC System and Key Technologies Exhibition Area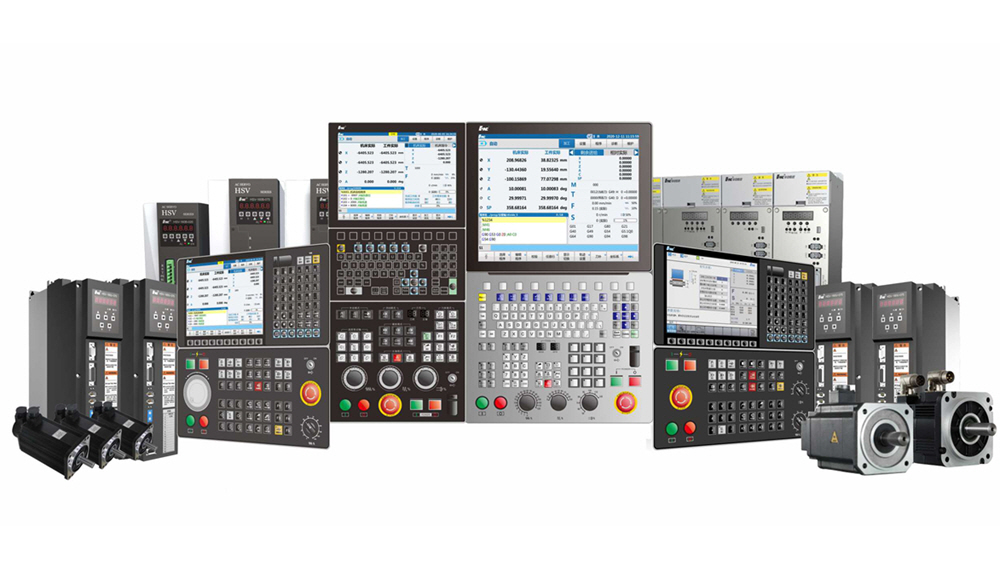 HNC8 CNC system is an all-digital bus-type high-end numerical control device, supports independently developed NCUC bus protocol and EtherCAT bus protocol, supports bus-type full digital servo drive unit and absolute servo motor, and supports bus-type remote I/O unit, and integrated handheld unit interface.
This time, we mainly exhibited the multi-axis multi-channel technology, high-speed linear motor control technology, dual-spindle synchronization technology, thermal error compensation technology, machine tool health protection technology, multi-bus control technology, servo parameter self-tuning function, and open platform technology.
Exhibition 4: Simultaneous Multi-axis Control–high-end CNC Machine Tool Display Area